Gregory Le Lay vive e trabalha em Ponta Delgada, na ilha de São Miguel.

Em 2018 cria "brui" um espaço onde desenvolve o seu trabalho e convida artistas para exposições pontuais.
Este espaço oferece também uma selecção de edições de artista.

No seu trabalho, Gregory Le Lay explora todos os suportes expositivo para articular mundos fragmentados e construir assemblages de traços gráficos, objectos ou sons, num jogo
dinâmico com arquitectura.

As suas exposições atraem o visitante numa relação orgânica com os sinais.
As formas que se propõe cruzar são cenários com múltiplas compreensões que questionam a nossa percepção e o nosso potencial para fazer malabarismos com ela.


Gregory Le Lay lives and works in Ponta Delgada on Sao Miguel island.

In 2018 he creates "BRUI" a space where he develops his work and invites artists for one-off exhibitions.
This space also offers a selection of artist's editions.

In his work, Gregory Le Lay explores all exibitions monstration code in order to articulate fragmented worlds and build assemblages of graphic traces, objects or sounds in a dynamic game with architecture.

His exhibitions lead the visitor into an organic relationship with signs.
The forms that he proposes to cross are scenarios with multiple comprehensions that question our perception and our potential to juggle with them.
LOS AMIGOS

GALERIE BIEN, MARIE DENIS, DOCUMENTATION CÉLINE DUVAL, CÉLIE FALIÈRES, ÉLISE FLORENTY, LISE LACOMBE, EMMANUEL LAGARRIGUE, AHRAM LEE, GRÉGORY LE LAY, BENJAMIN PARÉ, MARIANNE PLO, JEAN-MICHEL SANEJOUAND, PIERRICK SORIN, ALEXIA TURLIN.
18 FÉVRIER — 27 MAI 2018

Maison des Arts Georges Pompidou, Cajarc, France

Gregory Le Lay faz parte da exposição Los Amigos, que explora a representação da amizade eos problemas da alteridade. A relação com o outro é uma construção permanente, cujos contornos inconstantes variam de acordo com o contexto, o humor e o desejo dos parceiros. Nesse espírito, a exposição Los Amigos é concebida como um projeto de afetos e projeções compartilhadas, onde os eventos sociais e políticos também ressoam. Combina obras de diferentes períodos - emprestadas de coleções públicas e privadas - e criações propostas para a ocasião por jovens artistas. Uma plataforma para intercâmbio dinâmico entre artistas, público e equipe do centro de arte, convida todos a interagir.Curadoria de Marie Deborne & Martine Michard

(eng)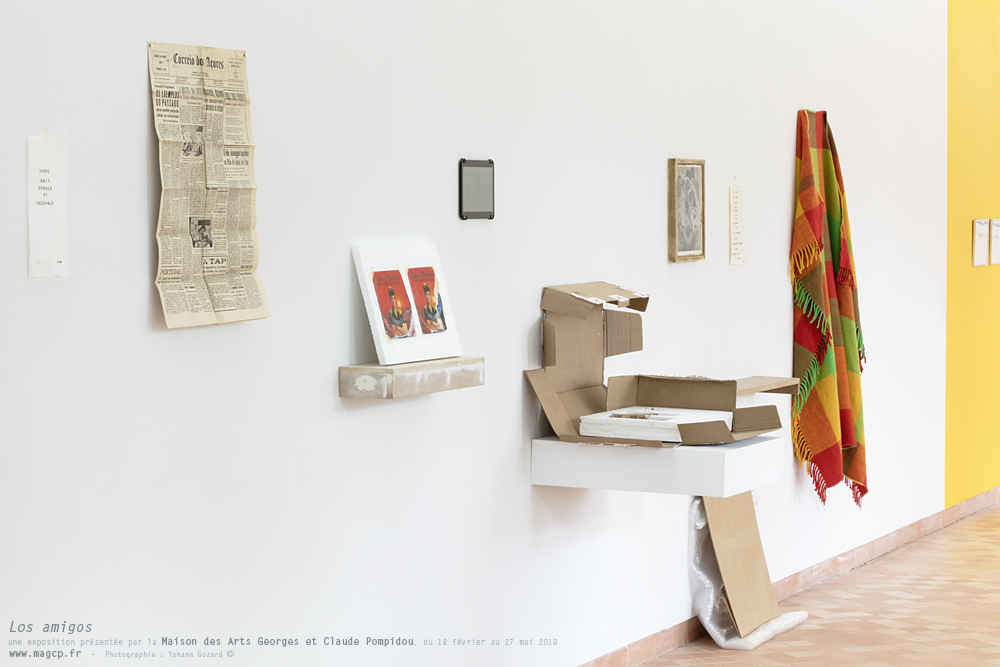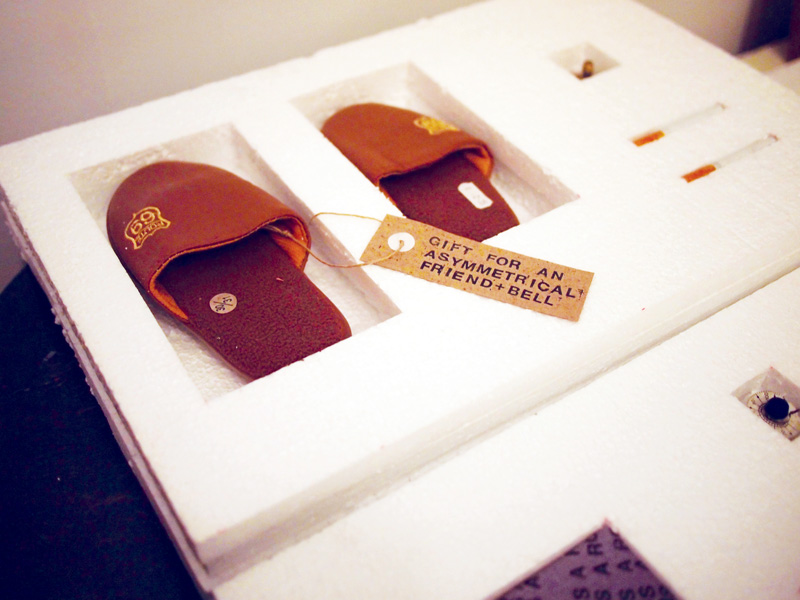 concert radiophonique David Oppetit Grégory Le Lay 2011
LP 12', 2 exemplar numbered signed, 2018.
production MAGCP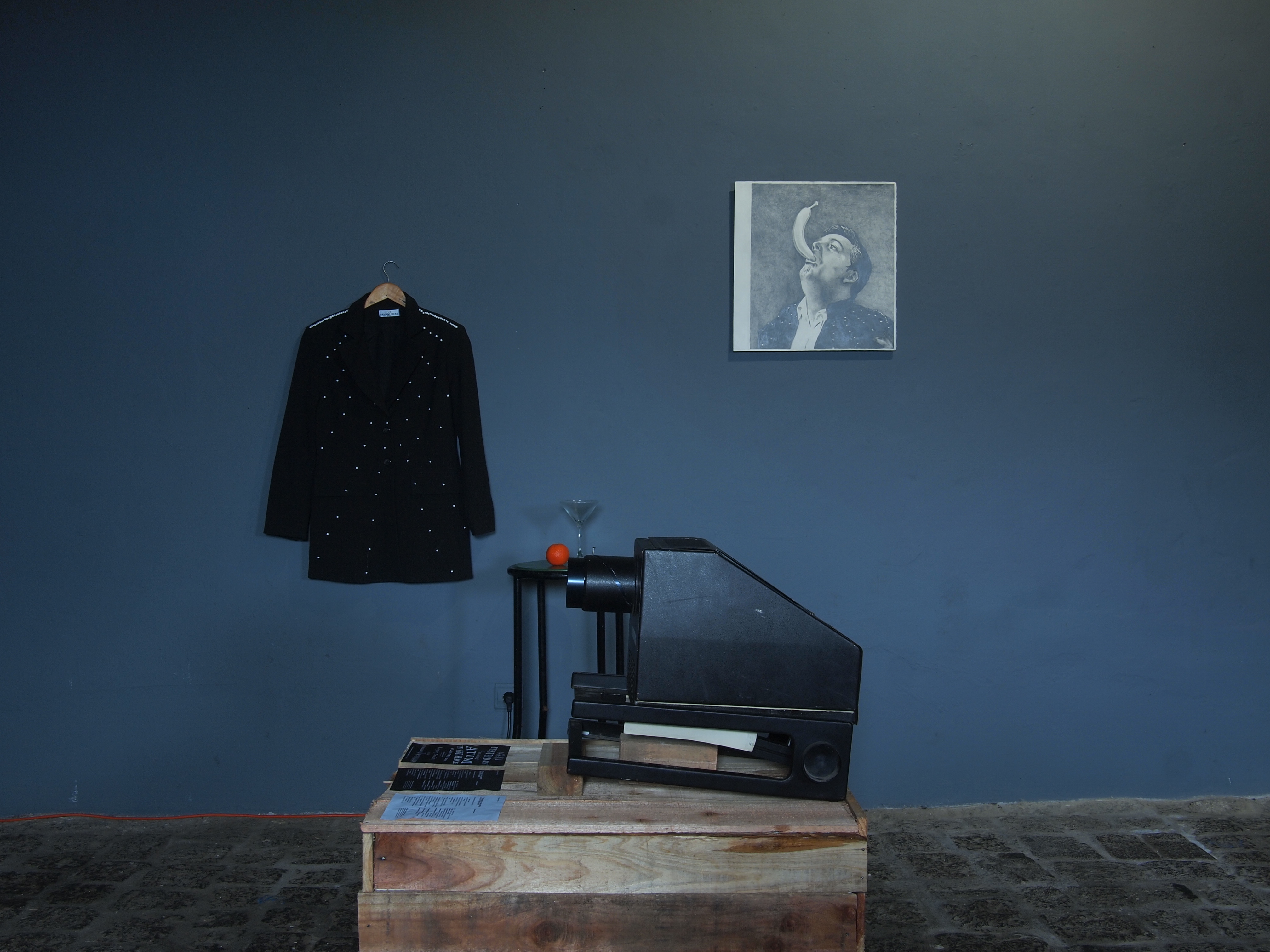 "Yesterday i was eating atum in the space"
Arco8, Ponta Delgada, Azores 2017


"Yesterday i was eating atum in the space" é uma instalação imersiva.
Trata-se de uma exposição in situ. Concebida para o espaço da Galeria Arco 8.
Este projecto que se apresenta, de 21 de Janeiro a 23 de Fevereiro 2017,
recorre a materiais que definem/marcam a paisagem da ilha e materialisa
situaçoes (caricatas) ligadas a encontros em São Miguel.
Os objectos apresentados são sobredimencionados ou reduzidos:
a vaca, a banana, o sono, o Joao e o espesso nevoeiro
de cortar à faca...pregam nos partidas/trocam nos as voltas e questionam
a nossa percepção, a nossa ligação ao animal, o nosso inconsciente.
Entre as Viagens de Guliver e Os "vertigos" de Alice estamos dentro
da realidade, estamos no centro do pais das vacas felizes.



"Yesterday i was eating atum in the space"

is an immersive installation.
This in situ exhibition is d
esigned for Arco8 gallery.
The project shows from January 21st to February 23rd 2017, use materials that
define / mark the island's landscape and materializes situations (caricatures)
linked to São Miguel island environnement.
The objects presented are over-dimensioned or reduced: the cow, the banana,
the sleep,
Joao and the thick fog of cutting with the knife ... they prank / change
the turns and question our perception, our connection to the animal,
our unconscious.
Between Guliver's Travels and Alice's Vertigos, we are within reality,
we are at the center of the happy cow coun
try.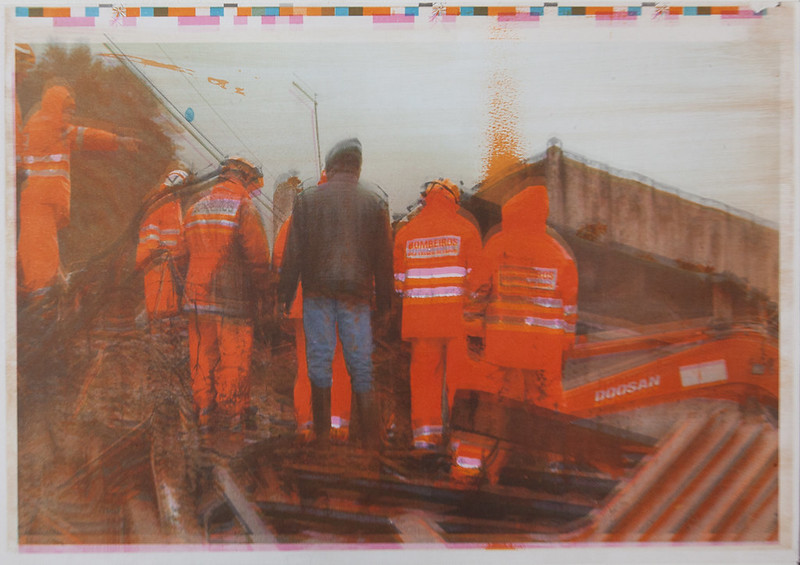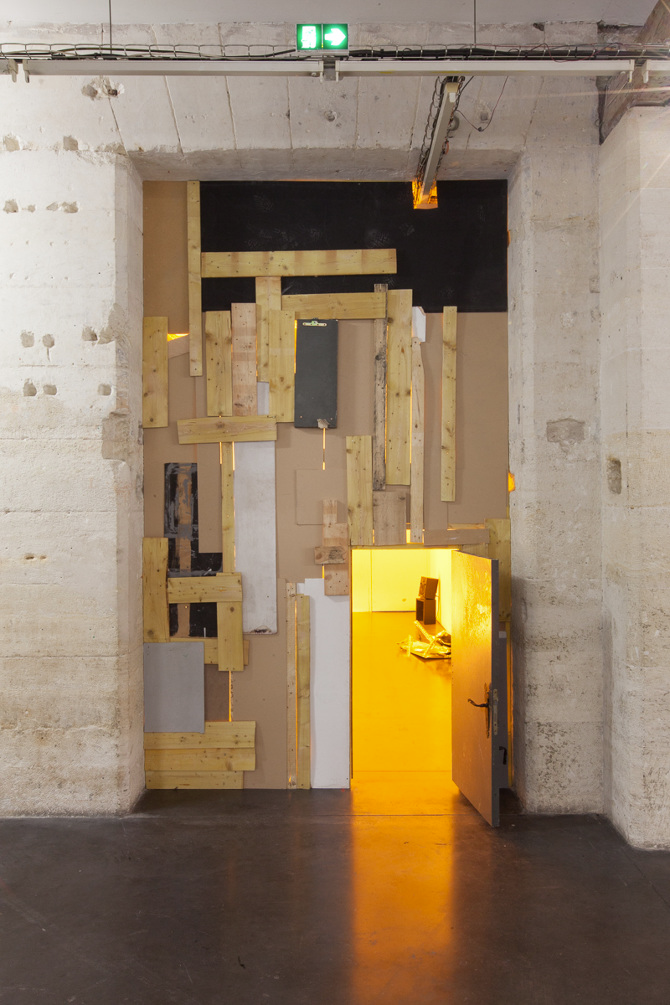 Insula1.0, exposition personnelle du 6 au 16 avril 2016
La compagnie lieu de création, Marseille


Insula1.0 é uma ilha intemporal, uma memória modular, a invenção de um território feito de curiosidades exóticas padronizadas, inventários, movimentos, um ambiente utópico onde os objectos dialogam, onde os sons se encaixam, onde as ideias, o vento, as sombras nunca são fixas.

"A Ilha e um paradoxo de lava" Anónima


INSULA1.0 is a timeless island, a modular memory, the invention of a territory made of standardized exotic curiosities, inventories, movements, a utopian environment where objects dialogue, where sounds fit together, where ideas, the wind, the shadows are never fixed.

"The Island is a lava paradox" Anonymous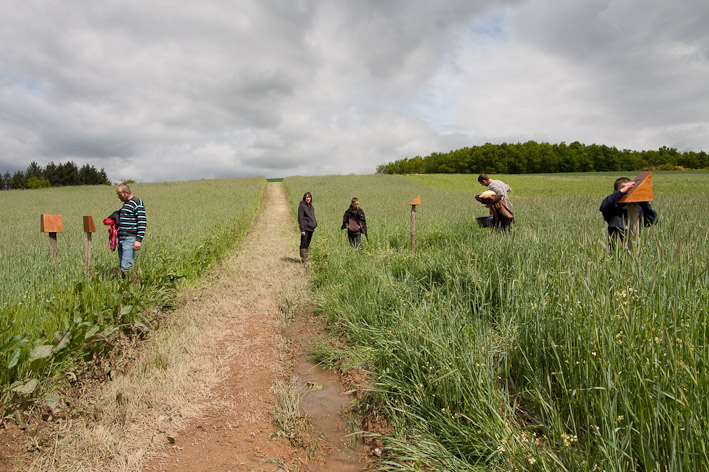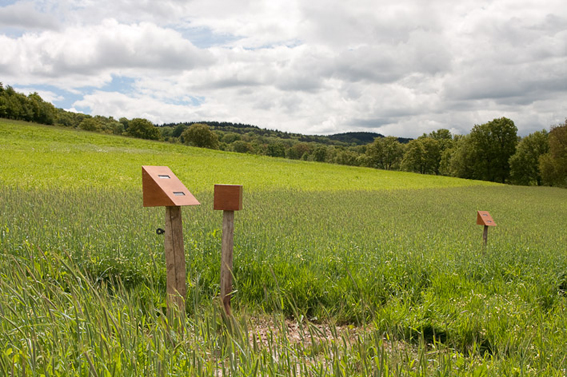 Ferme de Vernand
electronics, wood, speakers, solar panel.
Collaboration: David Calvo (écrivain, Paris), Martin Kuentz (design audio, Berlin) and David Rossi (sculpteur, Lyon) production : Polyculture



De l'influence des rayons Gamma sur le comportement des margherites, 2013
.Polyculture 2013, cycle d'art contemporain sur la ferme d'elevage de Vernand, France
.Atelier l'oeil de boeuf, Lyon, France



Como a música coexiste com os espaços sonoros? Como os sons interagem entre si.
Como certas frequências sonoras podem estimular a reação de pássaros, burros ou até revigorar o crescimento das plantas. Todo mundo sabe que a música afeta o humor dos seres humanos e de certos animais. Desde a década de 1960, muitos pesquisadores comprovaram os efeitos de certas músicas no crescimento das plantas. Joël Sternheimer, doutor em física teórica e músico, descobriu não apenas como explicar esses efeitos, mas também como reproduzi-los sistematicamente e com maior intensidade, em uma maneira científica. O projeto busca desenvolver um trabalho poético em torno dessa idéia, inspirado em experimentos científicos, a "proteody", que testa a influência da música no crescimento das plantas. Várias caixas de som serão colocadas no espaço das culturas para compor a música de acordo com o caminho do visitante, além de um jogo entre as formas e o ambiente.


How does music coexist with sound spaces? How do sounds interact with each other?
How certain sound frequencies can stimulate the reaction of birds, a donkey, or even invigorate plant growth. Everyone knows that music affects the mood of humans and certain animals. Since the 1960s, many researchers have proven the effects of certain music on plant growth.Joël Sternheimer, Doctor of Theoretical Physics and musician, has not only found how to explain these effects, but also how to reproduce them systematically and with greater intensity, in a scientific way. The project seeks to develop a poetic work around this idea, inspired by scientific experiments, the "proteody", which test the influence of music on plant growth. Several sound boxes will thus be placed in the space of the cultures in order to compose music according to the visitor's path, as well as a play between forms and the environment.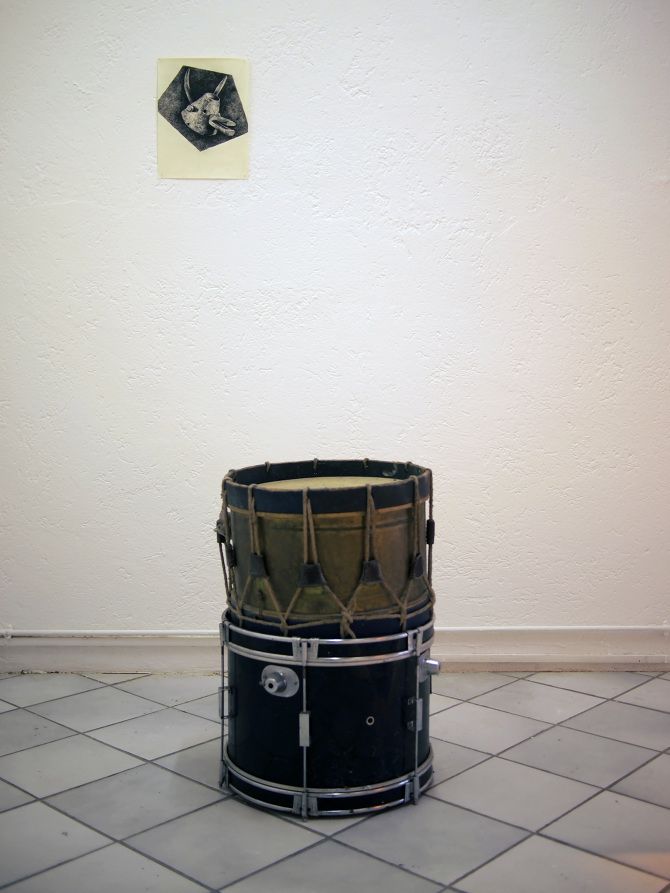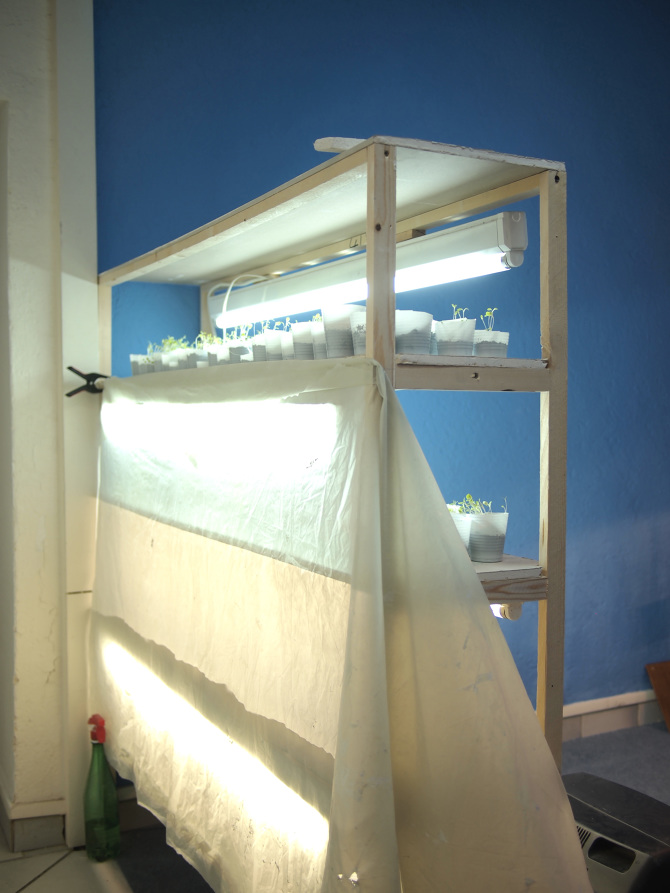 atelier L'oeil de boeuf, Lyon, France

electronics, wood, video loop, fourniture, lights, wooden structure, drawing, cow teeth, drums, plants, carpet, plastic, mobile, hearth.



«Les plants de tomates traités musicalement pendant onze jours ont une production bien supérieure à ceux que l'on a pourtant arrosés deux fois»

Joël Sternheimer